Welcome to Afton City Hall
115 East Kansas • Afton, Iowa 50830 • (641) 347-5224
Afton's local government consists of a Mayor and five member Council who meet the second Tuesday of every month at 6:30 pm at City Hall.
Afton's protection services include a Police Department and Fire and Rescue Unit. Fire and Rescue Services are volunteer and paged through Union County dispatch 911 services.
City Hall is open from 8:00 am – 4:30 pm for your convenience and service. The employees in the City Clerk office are responsible for maintaining the City's real property records, contracts, bonds, City Council proceedings, and other legal and administrative documents. The City Clerk is also the recording secretary to the Mayor, Council, and the Zoning Board of Adjustment. Various licenses and permits may also be obtained in the Clerk's office. If you have any questions please call or 
e-mail Toni or Roxanne at City Hall (641-347-5224) or actyhall@iowatelecom.net.
For utility billing questions email Roxanne at aftonutility@windstream.net.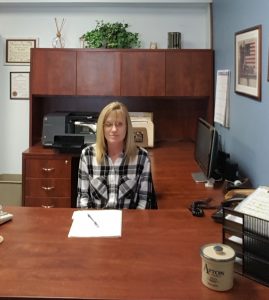 Toni Landers – City Clerk


Toni Landers has been the City Clerk for the City of Afton since October 2006. When asked why she applied for the job she said that she thought it would be a challenge, and she has always wanted to work in Afton. Toni & husband Allan graduated from East Union and have made their home here. She said after she first started the job she was surprised about how much there is to learn and how many responsibilities the City Clerk has.
Toni graduated from East Union High School and AIB in Des Moines. She has been a recruiter for Grapevine Staffing, Assistant Financial Aid Director at SWCC, has worked in accounting and as a planner for sales orders at Gits Manufacturing. She came to this position with lots of experience and we are happy that she joined our team.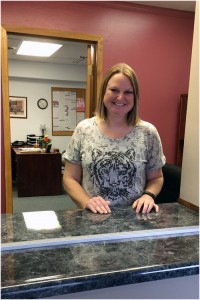 Roxanne Walter – Utility Clerk
Roxanne is our part-time Utility Clerk. Her hours are from 9:00 am. to 1:00 p.m. Monday through Friday, but are flexible when needed. She started her position July 1, 2011. Roxanne has 3 children who attend East Union Schools.
Roxanne grew up in Afton and graduated East Union High School in 1996. She has a business background, was employed by Easters, FNB, Grapvine Staffing, and is a member of East Union Alumni Association. Roxanne is friendly, courteous, and very knowledgable. We are very glad to have her working for the City of Afton.
City Hall • 115 East Kansas • Phone: 641-347-5224 • FAX: 641-347-5297 •
e-mail: City Hall: actyhall@iowatelecom.net – Utility: aftonutility@windstream.net